Work planned for ex Broughton Moor arms dump in Cumbria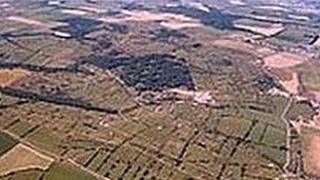 Work to transform the site of a former arms dump in Cumbria is expected to begin within two years, developers say.
A consortium has leased the 1,050 acre (425 hectare) Broughton Moor depot, near Maryport, from Cumbria County and Allerdale District councils.
Derwent Forest Developments aims to create a tourist and wildlife complex to rival Cornwall's Eden Project.
Reforestation of the site will take place during an environmental impact assessment, expected to take two years.
The Broughton site was bought from the Ministry of Defence by the two councils in 2008.
Nigel Catterson, chairman of Derwent Forest Developments, said: "This has been a long, taxing and often frustrating journey to date for all involved.
'Unique opportunity'
"For our part, we are keen to get under way as soon as possible.
"Through the continually evolving project we will create something unique and of benefit for the community, visitors and generations to come.
"We intend to ensure that all we do will be ultimately sustainable and an example of how humankind can create a balanced existence on this planet."
Tony Markley, Cumbria County Council's cabinet member for economic development, added: "When we took on ownership it was to kick-start its development so it could be transformed from a closed-off MoD relic into a sustainable site for local people and contribute to the local economy.
"Now that responsibility for the site has transferred to the developer, they can start the necessary work to make that development a reality.
"This is a unique opportunity and both local authorities will still be working very closely with DFD to ensure that their plans can come to fruition."