Veteran Cumbria Police worker recognised in New Year Honours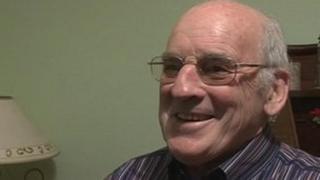 A veteran police worker who was trapped in her station during the Cumbrian floods of 2009 is among those recognised in the New Year Honours.
Hilary Dandy has worked on the front desk of Cockermouth station for almost 40 years and becomes an MBE for her services to Cumbria Police.
She was rescued by helicopter after becoming trapped overnight in the station during the November floods.
Mrs Dandy, said she still enjoyed her job after 39 years.
Rugby veteran Bev Risman, who lives near Penrith, is appointed OBE for services to rugby league.
The 74-year-old began his career as a rugby union player, but switched codes to captain Great Britain in the 1968 Rugby League World Cup.
He is the son of Workington Town legend Gus Risman and recently stood down as president of the Rugby Football League.
He said: "I was shocked initially because I hadn't event thought about the idea of getting an award.
"But then I was very excited and very honoured to get it and delighted to accept it."
Len Cockcroft, chair of governors for Cockermouth School, is appointed MBE for services to education.
He said: "I am thrilled by this award. It is a great honour which I share with the school and I, my wife Katharine and my family are delighted.
"I have been a governor at Cockermouth School for 18 years and chair of governors for 14 years and it has been a privilege to work for the youngsters of this area at the school where our own three children studied.
"I share this honour with all those who have helped and continue to help to make Cockermouth School such a thriving and successful school and I am quite genuinely overwhelmed."
Also honoured by the Queen is 85-year-old Rosie Lightfoot, who becomes an MBE for services to the communities of Glenridding and Patterdale.
Tourist industry
She has only recently stood down as a parish councillor after 34 years.
She said: "I was absolutely stunned at first, but now I'm thrilled. It was the last thing I thought would ever happen to me."
Ms Lightfoot, who has been on her local village hall committee for 40 years and who has run the local branch of the Royal British Legion for more than 30 years, added: "If I hadn't have done these things I would never have gone out in the evenings.
"I always hoped I was helping the village in one way or another."
Carol Donnelly, from Brampton, becomes an MBE for services to the tourist industry. She runs guided tour firm Open Book, near Brampton.
Joan Capp, from Millom, is appointed MBE for her work with the Bootle Refugee Aid charity, as is BAE Systems engineering manager Philip Burns, from Barrow, for services to the defence industry.
The former chairman of the Lakeland Arts Trust, Dr Adam Naylor, becomes an MBE for services to the arts in Cumbria, as does the former mayor of Grange-over-Sands Michael Fieldhouse, for his services to the community.