Delay to flood-hit Northside Bridge replacement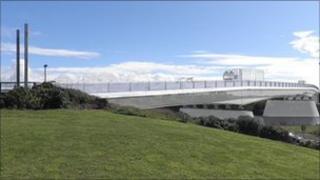 Work to replace a bridge destroyed in the flooding which hit Cumbria in 2009 has been delayed.
Workington's Northside bridge collapsed into the swollen River Derwent, killing Pc Bill Barker who was on the bridge diverting traffic.
A new bridge is being built and it was due to be completed by May.
Cumbria County Council said difficulties with piling had meant a delay and it was now expected to be complete in early August.
It said the road closure to begin to lift beams into place to support the bridge deck was now due to take place on 11 and 12 February.
A council spokesperson said: "We apologise for any inconvenience that the later road closure may cause as a result of unforeseen piling problems, we will ensure that any disruption is kept to a minimum during the construction works."
After the bridge collapse, the Army erected a temporary footbridge, but that was taken down in March last year.