Men sought after "dangerous" prank at Ulverston station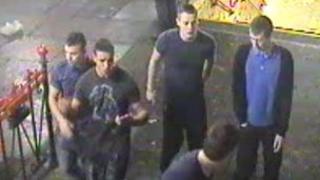 Transport Police are still searching for a man who jumped into the path of an oncoming train at a station in Cumbria.
The man waved his arms at the train before climbing back onto the platform at Ulverston station in December.
PC Allan Fernie said: "I cannot stress enough just how dangerous this is."
British Transport Police (BTP) have released a CCTV image of men who were at the station at the time and who may have information.
The incident happened just after midnight on 11 December as a service from Manchester Airport to Barrow approached the station.
BTP said the driver of the train saw a group of men on the platform and that one of them jumped onto the tracks and "waved his arms at the oncoming train" before climbing back onto the platform.
PC Fernie added: "The driver remonstrated with the men once the train had come to a full stop and refused to let them travel on the service.
"There is little doubt that, had the man been unable to get back onto the platform, he would have been struck by the train which, even at slow speeds, could have caused serious - if not life threatening - injuries.
"Quite apart from this being extremely foolhardy and dangerous the man has also committed a criminal act."