Northumbria trust takes over two Cumbria hospitals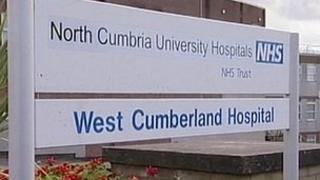 Northumbria Healthcare NHS Foundation Trust is to take over the running of two hospitals in north Cumbria.
North Cumbria Hospitals NHS Trust has suffered a number of financial problems and some medical staff said they had no faith in management.
The trust had accepted it was not strong enough to survive on its own and agreed the takeover.
The move affects the Cumberland Infirmary in Carlisle and the West Cumberland Hospital in Whitehaven.
In November 2011 it emerged from a leaked email by the trust's chief executive that its financial position had worsened and urgent action was needed, which could include ward closures.
Some staff later talked about being "at breaking point", with morale at an "all time low".
However, the Cumbria trust had always denied that patient safety was at risk.
'Real benefits'
Two organisations were in the running for the takeover, with Northumbria Healthcare NHS Foundation Trust beating off competition from a partnership between the trusts that run Cumbria's community health services, and Newcastle's hospitals.
Jim Mackey, chief executive of Northumbria Healthcare NHS Foundation Trust, said: "Our focus for the coming months will be on working with all stakeholders to ensure hospital-based care is fit for the future and on a sound financial footing.
"Whilst we recognise that there are many challenges ahead, we are optimistic and confident in being able to deliver real benefits to patients."
The move was also welcomed by the joint health unions, Royal colleges and professional associations.
They said in a joint statement: "We believe the appointment should represent a fresh start, and we therefore call on the new management of the trust to work in partnership with us to ensure that the interests of the patient are now given the priority they deserve.
"The patients, families and staff of North Cumbria deserve a trust that is well run, well managed, and that focuses on delivering high quality patient care."