Tebay rail deaths anniversary: Network Rail in new safety spend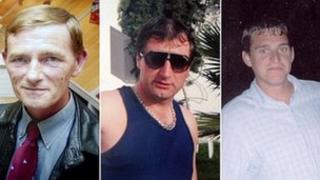 Network Rail is spending £5m to improve the safety of its road-rail vehicles, it has announced on the eighth anniversary of a fatal crash.
On 15 February 2004, a 16-tonne wagon broke free and sped down Shap Summit killing four men working on the West Coast Main Line, near Tebay, Cumbria.
The Rail Maritime and Transport union said it had been in talks with Network Rail since to prevent another accident.
Extra disc brakes will be fitted to more than 300 road-rail vehicles.
Road-rail vehicles are flat trolleys on railway wheels that are used to move materials to and from railway worksites.
A secondary protection and warning system will also be developed as part of the project.
RMT General Secretary Bob Crow said: "Today we remember our colleagues who so tragically lost their lives because of the safety failures at Tebay on that dark, early morning eight years ago.
"Today we are demanding that Network Rail stop prevaricating and give us a definitive timetable for the guaranteed introduction of the secondary protection system.
"On this day, of all days, we will accept nothing less."
The men were hit by a trolley unit carrying rail lines which had come loose from a works train at Tebay Old Yard, between Kendal and Penrith.
Gary Tindall, 46, from Tebay, Chris Waters, 53, of Morecambe, Lancashire, Colin Buckley, 49, of Carnforth, Lancashire, and Darren Burgess, 30, of Carnforth all died in the incident.
Five others were injured.
A Network Rail spokesman said: "Safety is paramount in everything we do, which is why all the recommendations made by the Railway Safety and Standards Board following their investigation of the incident have been fully implemented.
"In addition to those, there are a number of work streams in progress to deliver solutions aimed at reducing the risk posed by runaway vehicles and the RMT is actively involved in these.
"Our long-term strategy includes the development of a new generation of road-rail vehicles designed specifically for railway use."
A commemoration will be staged close to the village later to mark the anniversary.