BAE Systems recruits submarine workers in Barrow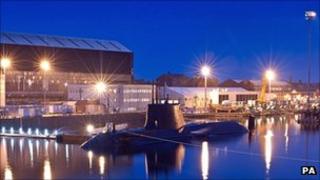 Defence group BAE Systems plans to create 280 permanent jobs at its Barrow submarine-building business in Cumbria.
It came as the group reported a drop in annual sales after defence orders fell back.
The Barrow jobs will be created during 2012 and will include engineers, designers and project managers.
BAE Systems Submarines managing director John Hudson said there had been "significant progress" in the programme in the past 12 months.
The site, where approximately 5,000 people are employed, has been involved with the Astute class submarines programme.
'Notable successes'
BAE Systems said many of the new roles would be involved with the Successor submarine programme, the replacement submarine to the Vanguard class.
Mr Hudson said: "We have witnessed significant progress across the submarine programme in the last 12 months, with a number of notable successes.
"There is now a greater degree of stability and our performance against key milestones continues to improve on previous years.
"The Successor programme to design a replacement for the Vanguard Class is gaining momentum and to that end one of the business' key objectives for 2012 remains the recruitment of professional engineers."
Earlier this month, BAE Systems announced it was to recruit 136 apprentices in Barrow.
The group's results showed revenues fell 14% to £19.15bn in 2011 while pre-tax profits were £1.46bn, up slightly on 2010's £1.4bn.