Anthony Robinson death: Firm fined over strimmer accident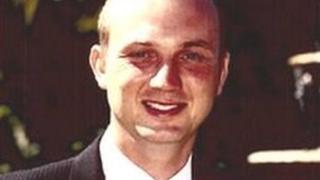 A firm has been fined £15,000 over the death of a man who was struck by a piece of metal that flew off a strimmer at high speed.
Tony Robinson, 37, from Ulverston, Cumbria, died after a link from a petrol strimmer became detached and hit him in the neck at about 300mph.
It happened at Ramsden Dock in Barrow on 8 February 2010.
ThreeShires Ltd pleaded guilty to breaching Health and Safety rules and was also fined £10,000 in costs.
The company, of Kings Gardens in Grantham, Lincolnshire, admitted failing to ensure the safety of its workers.
ThreeShires Ltd, which specialises in ecological and forestry work, was prosecuted by the Health and Safety Executive (HSE) after an investigation into Mr Robinson's death found the work had not been planned or carried out safely.
Barrow Crown Court heard Mr Robinson, a self-employed contractor, had been hired to help clear undergrowth at the site during the construction of the new Waterfront business park.
He was using a chainsaw to cut back the overgrown vegetation, with another worker using the strimmer on a nearby bank.
The chain attachment had been added to the strimmer so it could be used for more heavy-duty work.
Tony Robinson's widow, Jenna, said: "Even though I am no engineer, when I was shown the piece of equipment, common sense told me that it was an accident waiting to happen, with links that could easily fly off.
"It is obvious that insufficient care was taken to protect anyone in the vicinity.
"The only small comfort is that the equipment has now been banned so hopefully another family will be spared the anguish we have had to go through and continue to experience with every birthday, Christmas or family occasion."
The HSE issued a Safety Alert following Mr Robinson's death, warning that there was a risk of death or serious injury from the use of the strimmer attachment.
It also served an immediate prohibition notice against the sole importer of the chain attachments in the UK, which resulted in a nationwide ban on the sale or supply of the product.
The attachment has now also been banned across Europe, after the HSE alerted the European Commission to the issue.