Foulney Island walkway rescue prompts crossing warning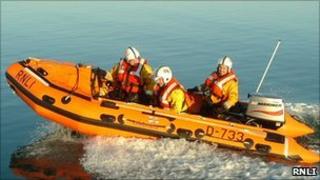 People who attempt to cross a tidal walkway off the Cumbrian coast while it is under water have been warned they are putting their lives at risk.
It follows two separate incidents on Sunday in which walkers had to be rescued by the Barrow lifeboat while crossing from Foulney Island.
The first rescue was of two people and their two dogs.
The second, less than an hour later, involved a couple, with the man carrying a child on his shoulders.
John Falvey, from the Barrow lifeboat station, said: "It's very dangerous because the walkway itself is not in good condition.
"It's quite slippery and uneven in places, and you could be swept off your feet by the fast-flowing tide."
'Admire the view'
Warning notices are in place at the car park on the mainland to tell people when it is safe to make the crossing.
Mr Falvey added: "If it was happening to people on holiday you could understand it because they won't have any local knowledge, but we normally find that the casualties are local people.
"But the thing is, these things are so easily preventable
"All people have to do if they are making the journey back from Foulney Island and see the walkway is covered is just to sit down and admire the view, and within an hour the water will have disappeared and it's safe to walk across."