Lottery funds to teach Lake District traditional skills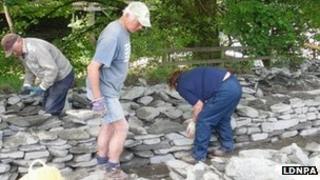 A project to teach young people in Cumbria traditional rural land skills has been given the go-ahead thanks to £449,000 of funding.
The Lake District National Park Authority was awarded the money to help raise awareness of traditional skills which have shaped the Lake District.
The project will focus on teaching practical rural methods such as dry stone walling and hedge maintenance.
The park authority's Chris Tomlin said it was "fantastic news".
The Heritage Lottery Fund awarded the grant.
'Conserve this knowledge'
Sara Hilton, head of Heritage Lottery Fund North West, said: "Traditional land management and rural craft skills are an inherent part of the cultural landscape of the Lake District, but with changes in working practices they are in danger of being lost.
"This project will help conserve this knowledge and ensure that it is passed on to younger generations so that the diverse heritage of Cumbria is preserved long into the future."
The bid was made in partnership with United Utilities, the National Trust, Forestry Commission and the Environment Agency.
Newton Rigg College will provide the formal training and qualifications for the initial six apprentices who will begin work in July.