Squirrel survey to use camera traps and sticky pads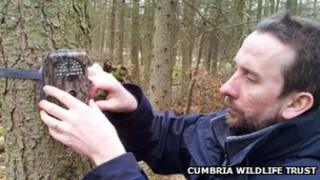 Remote trail cameras and hair collecting sticky pads are to be used as part of a squirrel survey.
More than 100 volunteers will visit 270 woodlands in Cumbria, Northumberland and other areas of northern England to establish squirrel numbers and species.
The volunteers are working under the guidance of the Red Squirrels Northern England (RSNE) conservation partnership.
The survey, which takes two months, will be repeated twice yearly.
Volunteers will use a range of different monitoring techniques, from visual counts while walking though woodlands to the use of remote cameras.
Sticky pads will also be used in woodlands to trap squirrel hairs which will then be examined under a microscope to determine which squirrel species they belong to.
Kirsty Kenny, a volunteer from Brampton, Cumbria, said: "I am delighted that members of Brampton & District Red Squirrel Group can participate in this project as it will give us all a better understanding of the impact of conservation work."
The information gathered in the study will be published in June.