Tribute to Wigton lorry crash death victim Eric Coulson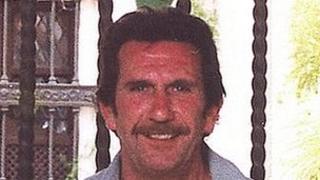 The family of a man who was killed when the car he was driving was in collision with a lorry in Cumbria, described him as a "tower of strength".
Eric Coulson, 62, from Wigton, died when his Suzuki Swift was in collision with an HGV on the A596 near the town on Thursday.
The 45-year-old lorry driver, from Liverpool, was uninjured.
Mr Coulson's granddaughter Jessica, 18, described him as a "kind, bubbly and loving" granddad.
She added: "Our Granddad was a truly lovely, kind man who will be missed by all five of his grandchildren.
"We would like Eric to be remembered as the kind, bubbly, loving gentleman he was, who always had a smile on his face and always helped others.
"Many, many people will miss him and we are very grateful for his help and advice.
"I appreciate everything he has ever done for me. He was a huge tower of strength for our family and somehow, somewhere, he still will be helping us through this hard time."
Mr Coulson's daughter Rachel added: "My dad was a very special man, a true family man who always put us first.
"He was honest and decent and would not harm a soul. He will be missed greatly by all that knew him."