Off-duty PC Craig Postlethwaite dies in Cockermouth crash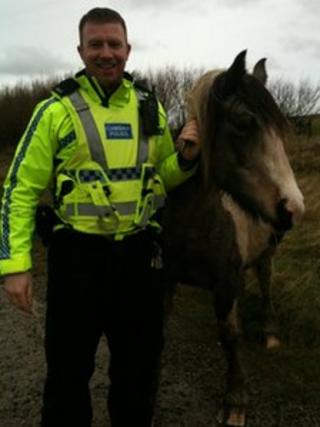 An off-duty police officer was killed when his motorbike collided with a car in Cockermouth.
PC Craig Postlethwaite, 38, from the Workington area, died on Lamplugh Road, just after 17:15 BST on Wednesday.
The driver of the car, a 65-year-old man from the Penrith area, was taken to the Cumberland Infirmary and treated for shock.
Sgt Jim Lloyd paid tribute to PC Postlethwaite, calling him a "genuinely nice and thoroughly decent bloke".
Sgt Lloyd worked with PC Postlethwaite in the West Cumbria Roads Policing Unit and is a close family friend.
He said: "Craig was an exemplary officer and will be missed by all who knew him, he was an exceptional man and a very dedicated officer.
"He recently moved to the Roads Policing Unit which was a career path that he had always wanted to follow and had also just completed his firearms course.
"He was well liked and respected by the community and all his colleagues - he was a genuinely nice and thoroughly decent bloke. As a police officer, he was an example to us all.
"He will be a massive loss to the policing family and we will all miss him.
"Craig's family have asked me to pass on thanks to the member of the public who stopped at the scene and attempted to give first aid to help Craig. His family and colleagues are extremely grateful."