Flock of miniature sheep 'invades' Penrith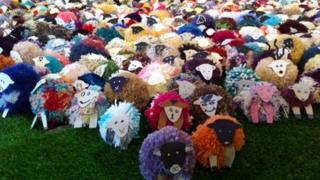 More than 4,500 miniature sheep have gone on display in Cumbria as part of a scheme to raise awareness of farming.
Made from wool, the flock is on show at the Rheged Centre in Penrith ahead of visits to other sites in Cumbria.
The sheep have been created for the Flock art project, which has been co-ordinated by Eden Arts to promote awareness of Cumbrian sheep farming.
Schools, groups and organisations are being encouraged to create their own sheep and flocks for the installation.
Contributors have been asked to use yarns which contain natural sheep's wool for their creations, and to avoid products which are 100% synthetic.
'Overwhelming' response
One of the key elements of the project is to promote the use of sustainable and biodegradable wool from sheep farmed in the Cumbrian fells as a natural alternative to man-made materials.
After Penrith, the exhibition will visit Farfield Mill in Sedbergh and the Sheep and Wool Centre in Cockermouth before arriving at Grizedale Visitor Centre in September.
A film titled Hefted, which deals with the theme of how sheep - and people - feel a sense of belonging to their landscape, will premiere alongside the art installation.
Eden Arts project officer Joanne Leary said she had been "overwhelmed" by the public response to the campaign.
She said she believed the project had been successful due to its inclusive nature, encouraging submissions from people of all ages and abilities.
"We have even received sheep from individuals and schools in Germany, France and America," she said.