Cockermouth flood defence plan approved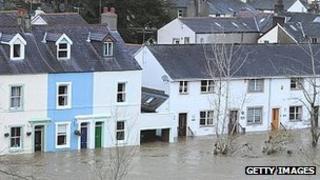 Plans for new flood defences in a Cumbria town which was badly hit by flooding in 2009 have moved closer.
Allerdale Council has given planning permission for new walls, gates and embankments to be built in Cockermouth along the rivers Cocker and Derwent.
The work, to be carried out by the Environment Agency, will protect 360 homes and 55 businesses from floods.
Hundreds of homes and businesses were affected during the floods caused by record rainfall three years ago.
The government has pledged £3.3m towards the cost and Cumbria County Council and Allerdale Borough Council have also pledged to contribute.
Keith Ashcroft, Environment Agency manager for Cumbria, said: "Three years ago, the local community experienced first-hand the devastation of unprecedented flooding, and since that time have worked tirelessly to rebuild their town and restore homes and businesses.
"Planning consent has now been granted, which balances the need for flood protection while ensuring the heritage of this beautiful town is maintained."