Cumbria County Council announces care home closure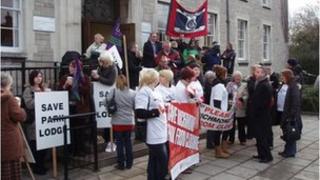 One of three care homes that were at risk of closure in Cumbria is to shut.
In October, Cumbria County Council announced three homes in the Allerdale area were facing closure as they were "struggling" to meet residents' needs.
Now, the cabinet has agreed to close the Woodlands home in Distington and retain Park Lodge in Aspatria and Richmond Park in Workington.
Councillor James Airey said they would ensure the transition was "as smooth as possible" for those affected.
More than 10,000 protesters signed a petition opposing the planned closures in February.
The first stage of closure of Woodlands will be to cease admissions to the home.
The council said they would work with residents, their families and staff to decide on the most appropriate alternative care and ensure the move from old to new is handled sensitively for the wellbeing of residents.
'Heard their concerns'
Depending on the needs of individual residents, the move will happen over the next 12 months.
Mr Airey said: "We took the decision to close Woodlands as the building is dated and there are a number of alternative services already available that support people with high level needs.
"We will do everything we can to ensure the transition is as smooth as possible for those affected."
The council will also work with staff and the trade unions to develop options including redeployment.
Councillor Eddie Martin, leader of the county council, said: "We have listened to what the community have told us, we've heard their concerns and have responded.
"We feel that retaining the facilities at Park Lodge and Richmond Park and closing Woodlands, along with the investment in community services and our exploration of extra care schemes, are the right decisions for the communities."
The cabinet has also announced investment in upgrading two further care homes in Maryport and Wigton to improve care for people with dementia.