Wasdale Head electricity reconnection delayed by dense rock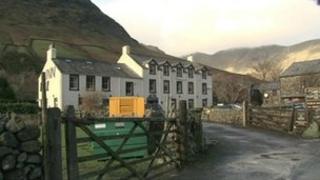 A remote Cumbrian village, without mains electricity since Christmas Eve, looks set to be running on generators for the foreseeable future.
Work to lay a new cable began in March on the road to Wasdale Head but it has been halted because dense underground rock has proved problematic.
Electricity North West said it was now trying to find another solution to the "challenging engineering project".
The village has been supplied with generators for temporary power.
Electricity North West response manager Jane Fleetwood said: "This was always going to be a challenging engineering project and we are disappointed that it has not been possible to complete the scheme as quickly as we had hoped.
"There are a number of other ways of routing the mains cable and we are currently working with the county council and everyone else involved to agree the best way forward to restore mains supply to the village as quickly as possible and with as little disruption as possible."
The company said the 1.4km long cable which has run underneath Wastwater since 1977 is faulty and cannot be repaired.