Lake District toilets get hand wash basins back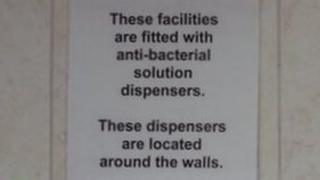 Public toilets without hand basins have failed to find a universal welcome in Bowness on Windermere, Cumbria.
The facilities at the Glebe had the sinks removed when they were recently refurbished. They were replaced with antibacterial gel dispensers.
But a small number of the people who use the toilets complained, and wash basins are to be refitted.
The toilets were handed over to a local trust by South Lakeland Council as part of cost savings.
Using advice that alcohol rubs were more hygienic than soap and water, the Bowness and Windermere Community Care Trust (BWCCT) reopened the toilet block in March.
David Thomas, chairman of the trust, said: "The advice was that sanitising gel works as well, if not better than water."
There have been some letters of praise but also complaints that sometimes only running water will do.
"We are seeing on average 700 people a day through these toilets," said Mr Thomas.
"We've had a very small fraction of those complaining.
"People have for various reasons said they would like water."
Other renovated toilet blocks in the area will also see their sinks return.
"We have listened to what people have said and we are putting one sink in each of the ladies and the gents, in each of the four toilets we have refurbished, " added Mr Thomas.