Amelia Bower death: 'Baby needed earlier move to special unit'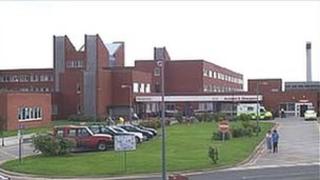 A one-day-old baby who died at a south Cumbria hospital could have had an increased chance of survival if she had been moved to a specialist unit sooner, a coroner has ruled.
Amelia Bower died after ingesting meconium (early faeces) prior to her birth at Furness General Hospital.
The consultant adopted a "wait and see" approach rather than transfer her.
A narrative verdict was recorded. The health trust said it had since introduced a number of changes.
Furness General Hospital is already at the centre of a police investigation following a number of deaths in the maternity unit.
However, the University Hospitals of Morecambe Bay NHS Foundation Trust said Amelia's death was an issue of paediatric care rather than a systemic failure.
The hearing at Barrow Town Hall was told that the child's mother Kelly Hine, from Dalton-in-Furness, was overdue when she gave birth by Caesarean section.
It was noted that her waters were heavily stained with meconium (early faeces, usually passed after birth) which a paediatric specialist registrar thought that the baby had ingested.
A foetal blood sample was judged to have been "very abnormal", and nurses also raised concerns.
However, consultant Dr Saeed Ghanim had not seen the blood results as Ms Hine's medical notes were not joined up with her daughter's, and did not recommend an immediate transfer to a specialist unit.
South Cumbria coroner Ian Smith said: "Dr Ghanim's decision was to wait and see.
"I have to say that, if Amelia had been transferred earlier, then her chances of survival would clearly have increased.
"We cannot say she definitely would have survived."
Error of judgement
The coroner added: "There was kind of an assumption that everyone knew the figures and no-one told Dr Ghanim.
"He says had he known that [then], his management would have been completely different. It appears it fell through the cracks."
Dr Ghanim is now working to restricted duties during an internal inquiry by the hospital.
Mr Smith said: "Amelia Jade Bower died as a consequence of ingesting meconium before birth, and she was not transferred to a specialist regional centre where advanced resuscitation techniques were available."
He said that the trust, which had made an unreserved apology to the couple, had taken on board what it needed to and made changes.
These included the presence of more midwives at any one time in the maternity unit and the option for staff to voice concerns to a consultant if they disagreed with the views of a senior member of staff.
Apology accepted
After the hearing, Eric Morton, the interim Chief Executive of the University Hospitals of Morecambe Bay, said:" This was not an issue about maternity care, this was an issue after Kelly had delivered Amelia.
"This was an issue about paediatric care.
"It was an individual error of judgement, this was not an organisational or a systemic failure."
Amelia's parents said in a statement: "We are very grateful to the inquiry because it has answered the questions that we had when Amelia was born and confirmed what we felt at the time that the care was not appropriate.
"We have accepted the apology and we are glad that lessons have been learned."