London Marathon pair from St Bees burgled while running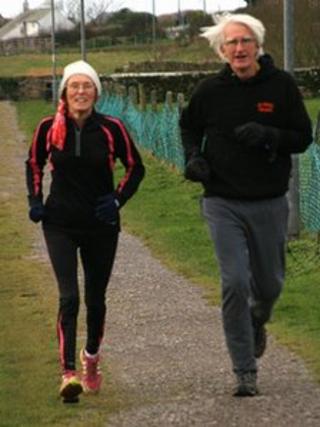 A couple had their house broken into while they ran the London Marathon.
Chris Robson, 73, and his wife Charm, 72, from St Bees, Cumbria, were taking part in the event to mark their 50th wedding anniversary.
The retired teachers were raising money for Alzheimer's Research UK and said about £60 sponsorship money was taken.
"I've never been burgled like this in forty years so maybe it was because of that," Mrs Robson said referring to their being away in London.
Mrs Robson said she hoped their insurance company would cover the stolen money but if not then they would cover it themselves as what they had been given had been donated "in trust" to them.
Mr and Mrs Robson finished the race in 5 hours, 44 minutes and 4 hours, 45 minutes respectively.
Mr Robson said: "Charm runs much faster than I do, she's a rather fast old biddy really.
"I was overtaken by a green giraffe at mile 22 which is pretty depressing and puts one's own athletic prowess into some sort of perspective."