Woman, 70, rescued from ice cave at Penrith estate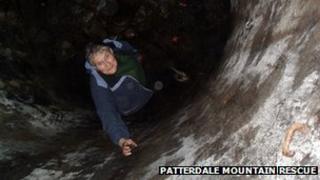 A 70-year-old woman has been rescued from the bottom of a so-called ice house in the grounds of Patterdale Hall Estate, Penrith.
The woman, from West Lothian, was uninjured despite falling 15ft (4.5m) in the artificial cave.
Patterdale Mountain Rescue Team were called in because she was unable to climb the steep walls to get out.
Ice houses or caves were attached to large estates to keep game and food cool during the period after winter.
The woman was hoisted from the bottom of the cave via a rope haulage system.