Queen Victoria Diamond Jubilee petition on display in Cumbria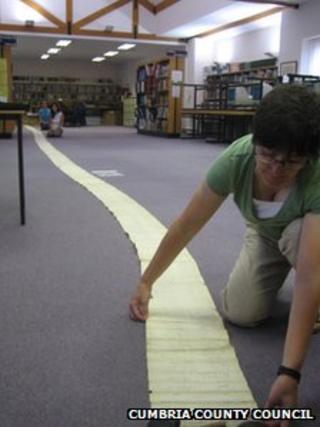 It dates back to a time when Diamond Jubilee celebrations were an entirely different affair.
As preparations were made for events to mark the 60th year of Queen Victoria's reign, more than 1,600 people signed a petition in Cumbria for a street to be extended so they could hold a parade.
The 85ft (26m) long document that resulted gives a glimpse into a "completely different time", archivists in the county say.
In May 1897 the petitioners asked the local council for an extension to Oxford Street, Workington, for a celebratory parade.
Catherine Clark, a county archivist for west Cumbria, said: "It takes us back to a completely different time, but very much mirroring now as we build up to mark the next jubilee of Queen Elizabeth (II)."
The document is made of pages of lined paper carefully pieced together.
"It is kind of a who's who of Workington," added Miss Clark.
"What you get is the signature of the person petitioning, their address, and sometimes if they couldn't write, which some Victorians couldn't, you get their cross, their mark.
'Beautiful thing'
"You can imagine people sitting there with their fountain pens, signing on it.
"It is a beautiful thing to look at for the varied writing you see."
For family history enthusiasts the document gives a direct link to the handwriting of ancestors, their signatures and the addresses of many families.
According to reports from the time, Diamond Jubilee celebrations were held in the town on 22 June, 1897.
Longest-reigning monarch
These included fireworks, a procession, Morris dancing and ended with between 12,000 and 15,000 people singing Rule Britannia and the National Anthem.
Historians think that possibly landowners were behind the petition in a bid to force the council to purchase allotment and agricultural land they owned.
Although unsuccessful at the time, it started negotiations which resulted in a deal being made in 1904.
Victoria came to the throne aged 18 after the death of her uncle William IV in 1837.
Britain's longest-reigning monarch had nine children with Prince Albert but never recovered from his death in 1861.
It is thought that the Workington petition, currently in the Whitehaven Archives, is the longest document in the Cumbrian archives.
It is being displayed in Whitehaven as part of Cumbria County Council's archives' golden anniversary celebrations.