Rescued yachtsmen's family thanks Workington RNLI crew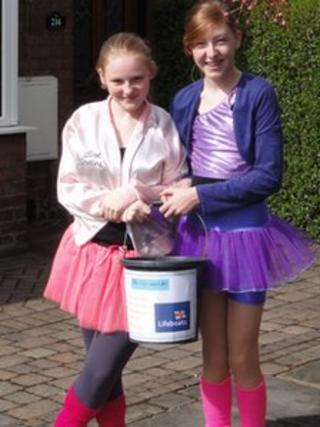 The family of a father and son rescued by a Cumbria lifeboat crew during a Force 9 gale have made a donation to the station.
Walter and Tim Burrow's yacht Never Satisfied suffered engine failure 15 miles off-shore.
Workington RNLI was called out and towed the vessel back to land.
Tim Burrow's 12-year-old daughter Ella and her friend Laura Bates raised the £250 with a sponsored two-and-half mile dance between their Lancashire homes.
Tim Burrow, from Penwortham near Preston, said: "Saying thank you just doesn't seem to cover the sense of gratitude I have for what the crew did for us that fateful afternoon.
"I know they will say, 'that's OK, it's what we are there for', and that the purpose of the RNLI charity is to give aid to people in difficulty at sea.
"But for me, that seems to fall short of recognising the volunteers who give their time freely, without question or judgement, and put their own safety or comfort last, setting everything else to one side at the drop of a hat to go out and help someone they don't know."
John Stobbart, coxswain of Workington RNLI lifeboat, said: "This was a very challenging rescue in difficult conditions.
"Tim and Walter were both struggling with seasickness and severe cold when we reached them so it's good to know they have recovered from the ordeal.
He added: "We are extremely grateful that Ella and Lauren have raised some money for our charity.
"Like all RNLI volunteers, we don't do this for praise or for money but it is always good to meet the people we've rescued and to know they appreciate the work of the RNLI."