American bulldog rescued from Lake District path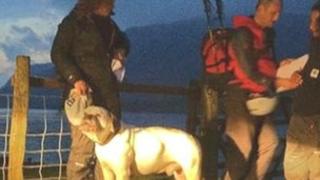 A team of 12 rescuers used a stretcher to carry an exhausted 10-stone (64kg) dog to safety down a mountain path after it became trapped in boulders.
Jarvis the American bulldog was on Wastwater Screes on Monday evening when he became stuck and too tired to walk.
His owners, two women walkers from Leicestershire, could not lift him from the Lake District beauty spot and called Wasdale Mountain Rescue.
The team spent four hours carrying Jarvis to his campsite.
Chairman of the mountain rescue team, Richard Warren, warned walkers not to be lured on to mountain paths thinking they are a soft option.
'Sting in tail'
The women, who are on a tour of national parks, had just climbed over the Screes summit including Irton Pike and Whin Rigg.
Mr Warren said they saw the path on their map by the side of Wastwater and believed it to be an easy route back to their campsite in Irton.
When the pair came across the field of boulders, they tried to get Jarvis to swim around the lake, but he was too tired.
Mr Warren said: "This particular path had boulders as big as tables and Jarvis had become exhausted and couldn't go any further.
"Often dogs' legs become trapped in between the gaps and it can be difficult to get through safely.
"The walkers thought the route was a nice easy path, but it has a sting in the tail with big slippery boulders to contend with.
"They had been walking for some time and Jarvis was immovable and exhausted.
"The women were also wet as they had tried to get Jarvis to swim. When we got to him he could walk some of the way and the rest we carried him in a makeshift stretcher."
Mr Warren said that Jarvis was friendly throughout his ordeal.
He added: "It was an unusual challenge of motivating a ten-stone bulldog without losing an arm or leg."