Furness Hoard Viking treasure on display in Cumbria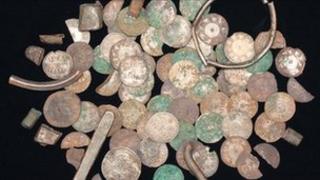 A Viking hoard of silver coins and artefacts uncovered in the Cumbrian countryside has gone on display for the first time.
The Furness Hoard of Viking Treasure was found in 2010 at an undisclosed site by a metal detector enthusiast.
The hoard, which includes 92 silver coins, ingots and part of a bracelet, is on display at the Dock Museum in Barrow for one month.
Museum curator Sabine Skae said she hopes to buy the hoard.
Following its discovery, the hoard was declared as treasure, giving museums the rights to acquire it.
Campaigners then started a fundraising appeal to try and keep the treasure within South Cumbria.
The Furness Maritime Trust, a charity that supports the museum, has offered £19,000 meaning fundraisers still need to find a further £31,000.
Ms Skae said: "We are really excited... it has been a lot of work to get to this stage.
"The Furness Hoard was found locally and we really want to buy it so that it stays locally on display, so everyone can see it and hopefully understand more about the Vikings."