Workington sewage works anti-odour scheme begins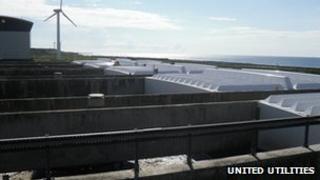 A £3m operation to reduce odours from a sewage treatment plant in Cumbria has begun.
Engineers from United Utilities will cover two processes on the site at Siddick, which experts say will vastly reduce the risk of lingering smells.
The new project follows a previous £4m project to install an odour control system at the site four years ago that failed to fully address the problem.
Work is expected to last until the end of the year.
Treatment manager Roy Dunbar said: "There's no doubt the plant has been great news for the environment but it serves a large community, including a number of industries, and in certain conditions we have had complaints that it smells.
"It's something we want to sort out."
Workington Wastewater Treatment Works at Siddick, was built in 1996.