National mountain rescue organisation receives £15k donation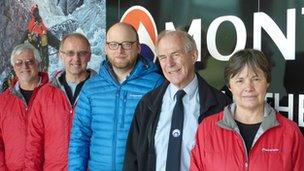 The Kendal Mountain Rescue Team has received a donation of £15,000, on behalf of the national organisation.
The donation, made by clothing manufacturer Montane, has been raised over the past two years by selling specialist clothing.
Kendal MRT Chair Dagmar Johnson said: "This kind of national support eases the financial pressure on teams."
The charity relies on donations to cover the annual running costs of about £45,000 each year.
The Kendal team accepted the cheque as representative of the national mountain rescue organisation because Montante has its UK showroom in its area.
Mrs Johnson said: "We are also eternally grateful to the local people and businesses who have always supported us and continue to provide so much of the financial backing to our volunteers."
Related Internet Links
The BBC is not responsible for the content of external sites.