Grizedale Forest sees reintroduction of red kites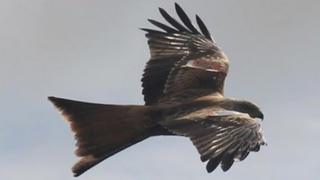 "An exhilarating sight" is how one Cumbria resident described his close encounter with one of the county's newly released birds of prey.
Over the past two years, 30 red kite chicks have been raised at a breeding site in Rockingham Forest, Northamptonshire and released in Grizedale Forest.
Members of the public are now being asked to keep an eye on the birds, and a Facebook page has been set up to catalogue sightings and pictures.
The birds' wings have been tagged with distinctive colour coded tags and have been spotted as far afield as London and the south coast.
Close encounter
A total of 90 kites will be released into the wild over a three-year period, with the final 30 due to be introduced in the summer.
The project was intended to replenish north-west England's red kite population, which was almost eradicated during the 19th Century.
The Forestry Commission is monitoring the birds with the help of the public.
Wildlife ranger Iain Yoxall, who oversaw the Grizedale reintroduction programme, said: "The more information we can get back from people the bigger the picture we will have on how the kites are faring."
One man who has already had a close encounter with a pair of red kites in the South Lakes is Geoff Halford, who lives near Meathop in Cumbria.
"For a bird, once so common, to have disappeared from our landscape leaves a gap in the wildlife chain," he said.
"The reintroduction of these birds, as with the ospreys, is both a re-balancing of the natural order and an exhilarating sight."
The UK's overall red kite population is expanding and there are now thought to be more than 1,000 pairs in the country.