Longtown depot campaigners deliver message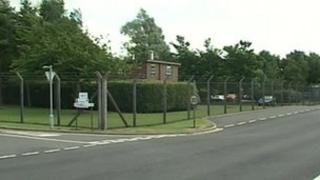 Campaigners fighting to save a Cumbria munitions depot said they were happy they got their message across when they met Defence Minister Peter Luff.
Members of the Prospect union and Cumbria County Council went to London as part of their battle to save the Longtown site, where 300 people work.
They said Mr Luff has listened to their arguments and they felt they had done all they could.
The Ministry of Defence (MoD) said a decision was expected in the summer.
Cumbria County Council cabinet member for economic development, Councillor Tony Markley, said Mr Luff had done his research and asked them a lot of questions during the meeting, which lasted just under an hour.
'Time well spent'
They presented a series of arguments for keeping the site including the damage to the local economy. They estimate the loss of 300 jobs would cost the economy £16.3m a year.
They have also challenged the MoD's figures for the cost of keeping the site viable.
Mr Markley believed the visit and lobbying by Cumbria MPs had helped.
He said: "Between us we have done a lot, a heck of a lot, and I don't think we could do much more.
"And I do think it was time well spent when there are 300 jobs at stake and £16.3m for the economy of Cumbria."
The MoD said a decision was needed on the site as its current explosive storage licences would be withdrawn in 2014 and it required investment for continued long-term storage use.
A spokesman said: "No decisions on the future of Defence Munitions Longtown have been taken. A formal decision is expected in Summer 2012."