Risk to patients revealed in Cumbria hospitals' staff logs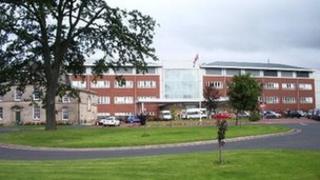 Medical staff at two hospitals in Carlisle and Whitehaven believe patients are being put at risk, according to logs seen by the BBC.
The reports from staff include a patient's oxygen being turned off as well as reports of accident and emergency departments being unsafe.
A retired hospital inspector said the logs should "set alarm bells ringing".
North Cumbria University Hospitals Trust said it had a robust system for monitoring and investigating incidents.
Log entries by medical staff at Cumberland Infirmary in Carlisle and West Cumberland Hospital in Whitehaven feature in the Medical Weekly Reports Live and cover a two-week period in April.
'Department unsafe'
There are several reports of the accident and emergency department at the Cumberland Infirmary being considered unsafe by the team running it.
On 16 April, staff reported a lack of beds, lack of staff and lack of monitors, with paramedics monitoring a pregnant patient in a corridor. The day before the department was described as "dangerous" and "not even meeting basic nursing care for patients".
The entries appear to show evidence that staff concerns were ignored.
On 22 April, a clinician reported to their manager that the "department is unsafe and patients would be in corridor as no beds identified". They say the situation was not escalated to the director on call and they rang the deputy director of nursing themselves.
The clinician indicated concern over shortages of beds, equipment including cot sides and mattresses that relieve pressure wounds, as well as staff shortages.
Dr Heather Wood, a retired hospital inspector with the Healthcare Commission who was the author of the original investigation into serious problems at Mid Staffordshire NHS Foundation Trust, reviewed the papers.
She said the logs should "set alarm bells ringing".
"What jumps out is a worry about what's called the emergency care pathway, patients coming to A and E," she said.
'Transparent reporting'
"Are they being seen and treated quickly, and admitted appropriately?
"In themselves, they wouldn't have been enough to trigger an investigation, but I think it is true there would have been enough to set alarm bells ringing."
Last year, some staff raised fears a cash crisis at the two hospitals could be putting patient welfare at risk. But the trust insisted patient care was not suffering.
Chris Platton, director of nursing at the trust, said that staff were under pressure.
"There's been a significant increase in emergencies, these are challenging times, but the staff is committed.
"But I'm still proud to say that I'm a nurse and I'm proud of the staff that work for me and with me.
"We are committed to delivering high-quality care for patients in Cumbria."
Ramona Duguid, director of governance at North Cumbria University Hospitals Trust, said that when mistakes happened they were investigated "very openly and transparently, to make sure that we learn lesson where we need to improve the care for patients".