Farmer cleared of planning breach for 'hamlet' in Cumbria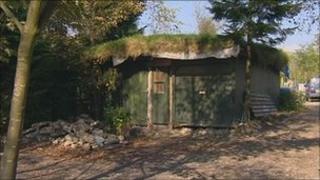 A farmer has been cleared of breaching planning law when he put together a small village of recycled mobile homes.
South Lakeland Council brought a case before Kendal magistrates alleging that Edward Steele had not complied with an order to remove most of the properties at Holme House farm, Kendal.
The council had to prove he owned the land. He argued that as he rented the land, he was not the owner.
Magistrates agreed the council had failed to prove its case on ownership.
The court in Kendal heard how Mr Steele had built a tree-covered estate of caravans, workshops and lodges so large that it left the planning officer who discovered it bewildered.
Mr Steele said after the proceedings: "I've created a lifestyle for people who don't want to live an urban life, they want rural life.
"Why should they be forced to live in towns when people who have got the money have a rural life."
At a public inquiry in 2010, a lawyer for the council referred to the scattered collection of around two dozen lodges as a "ramshackle hamlet".