Cumbria nursery beats weather for Chelsea Flower Show medal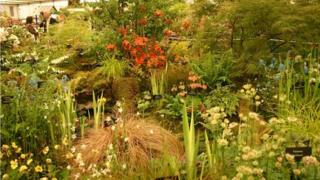 Cath Sanderson nearly pulled out of this year's Chelsea Flower Show.
The weather at her nursery at Heaves, near Kendal nearly defeated her. The peonies, the focus of her display, had not flowered.
"We don't have any heat so [the plants] have been in and out of the tunnel, in and out of the greenhouse, trying to keep the doors closed when the weather's been hot, trying to move things in when the hail has come down," she said.
There were strong winds and frost to contend with too.
But, she said, she had never withdrawn from a show before and, in the end, decided not to miss her first time at Chelsea.
The replacement display required "some last minute thinking" and took two people "three long days" to set up.
The peonies were replaced with azaleas and dicentras which would not usually be in bloom.
Silver gilt
"Some benefit of the colder weather has been that certain things are on our display that would have normally finished flowering," she said.
"For the first time ever we grew specific plants for Chelsea but unfortunately some of them, because they just haven't grown, we've had to leave those behind and just look round really for anything.
"Some things are only just coming into flower, like the Iris, that really could have done with being a little bit further into flower. But it was basically we hadn't anything else, so we had to bring them."
Once at the flower show there were more difficulties.
Finding themselves with an indoor pitch on a raised platform, their stream, waterfall and pond were harder to achieve without being able to sink the water reservoir underground.
Mrs Sanderson did not expect a significant medal, considering the circumstances. She would be "very happy" with anything, she said.
They were awarded silver gilt, the second best prize on offer.
'Natural display'
Cath Sanderson left teaching to join her husband Bob, already involved in horticulture and landscaping, in running a nursery.
She won gold at her first flower show - the Gateshead Summer Show - in 2000.
More recently she has won gold at this year's Harrogate Spring Flower Show and last July's RHS Tatton Park Flower Show.
Both Mr and Mrs Sanderson are proud of their method of growing plants "naturally", without heat to bring on flowers, or cold to hold them back until needed.
Mr Sanderson said they also like to create a "natural display" so "people can see they can do that in their garden".
"Although people like spectacle they like to be able to see something they can do themselves," he said.