Coniston garden railway to be sold after Maj Hext death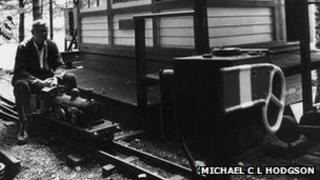 An auction is due to take place in Coniston in Cumbria to sell off all the components of a miniature railway that once operated in the village.
Major John Hext created the line in the grounds of his home, but his death three years ago has forced its sale.
The 200 lots include steam and electric locomotives, carriages, track, signals and signal boxes.
Maj Hext's son said he felt "extremely sad and guilty" for taking apart his father's lifetime work.
But Jonathan Hext said that the sale had to take place in order to pay a tax bill.
Great collector
Construction of the 7.25in (18 cm) gauge railway in the grounds of Holywath house began in 1955.
Colin Tomlinson, the managing director of Michael C.L. Hodgsons in Kendal, who are handling the auction, said: "The sale can be divided into two lots.
"We've got the miniature railway itself, which was built up by the late Major Hext.
"But during his lifetime he was [also] a great collector of railwayana.
"There is a tremendous amount of railwayana from local lines and from national lines amongst the items for sale."
Mr Tomlinson said interest in the sale was coming from local and national prospective buyers.