New building for Cumbria council staff in Carlisle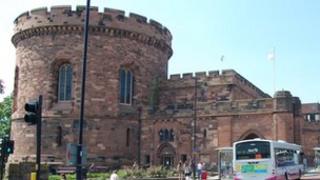 New premises are to be built in Carlisle to house county council staff.
Workers are currently based in about 20 different locations in and around the city, including the landmark citadel buildings which form its gateway.
Many are now felt to be old, inefficient and not fit for purpose, so the council has announced plans to consolidate them into three sites.
These will be the Civic Centre, Barras Lane in Dalston, and the new building on the site of William street car park.
No details of the cost of the new building have been announced.
New tenants
It is expected to house about 650 workers and open in 2015.
Some of the premises the council now uses are leased, and some, such as the historic citadel building, it owns. New tenants will be found for these.
Stewart Young, the council's deputy leader, said: "We will be improving working conditions for our staff through introducing more modern open plan working.
"It will also enable greater integration and synergy with our directorates bringing together teams and locating staff more appropriately."