Evewright's Walking Drawings on show at Royal Academy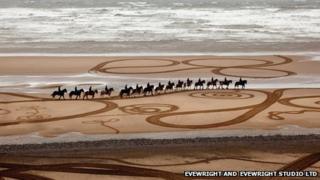 An image of horses on a beach in Cumbria is to go on display in London's Royal Academy.
Everton Wright's Walking Drawings: Cumbrian Heavy Horses, was created on Silecroft Beach, Millom, during 2010. It features 15 local Shire horses.
Over two days, the artist, known as Evewright, battled gale force winds to create two short films and a series of large-scale prints.
One print image, has been chosen for the Royal Academy Summer Exhibition.
Over the last eight years Evewright has been creating large-scale drawings, using specially selected "sandscapes" along the British coastline as his canvas.
It took two years and several journeys north from London to produce the Cumbrian work.
Before the riders arrived, Evewright used garden tools to sketch out patterns on the beach. They were then filmed and photographed walking on the artwork.
The still image has been selected from more than 11,000 entries this year for one of the coveted spaces at the Royal Academy.
It will go on display in the Jeanne Kahn Gallery five.
Evewright once worked as a kitchen Porter at the Royal Academy, so to have his picture exhibited has been a dream come true.
He said: "Walking Drawings combines the elements - sand, sea, air - to create a new way of making, seeing and experiencing drawing.
"Showing this work in London locates this artistic landscape idea in the city."
Lancaster City Council, Lancashire County Council and The Big Lottery supported the making of Walking Drawings in Cumbria.
The Royal Academy of Arts was founded by George III in 1768.