About 70 jubilee beacons lit across Cumbria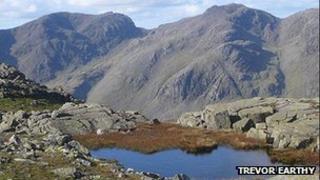 About 70 beacons have been lit across Cumbria to mark the Queen's Diamond Jubilee.
One of the last to be lit was the beacon on Scafell Pike in the Lake District, along with those on Ben Nevis, Mount Snowdon and Slieve Donard.
Nell McAndrew will be at one of the biggest ceremonies at Scafell Pike to help light the beacon.
She said: "It's a historical event and it's something I'll never forget for the rest of my life."
"It's a fantastic experience and I hope it's a really clear night so we get to make the most of it," she added.
'Special ceremony'
Professor Greg Rubin, who works at Durham University, will be helping to light the beacon on Scafell Pike, as part of the team representing Cancer Research UK.
He said: "I think it's a great honour to be part of this.
"I think it's a good opportunity to talk to people who have had cancer and you can never stop learning from the way other people have had an experience of cancer and how they got through it."
In Penrith, all eyes will be on St Andrew's Church tower when its beacon is lit to mark the jubilee.
The Reverend David Sergeant said: "A gas powered beacon is set up on top of the church tower, so it's going to be a special ceremony of light."
A series of beacons along Hadrian's Wall were lit between 22:00 and 22:30 BST.
See all the latest Diamond Jubilee news and features at bbc.co.uk/diamond jubilee