Keswick Mountain Rescue Team completes 3000th rescue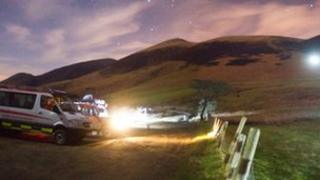 Keswick Mountain Rescue Team has completed its 3000th rescue after a 36-year-old man slipped and dislocated his kneecap while walking on Causey Pike.
The casualty was treated at the scene and stretchered onto an air ambulance after the incident on Sunday.
The charity said its workload had "hugely increased" in recent years, with nearly 100 rescues in 2011.
Forty-seven volunteers, who are on call 24 hours a day, make up the rescue team.
Formed in 1947, the charity was the first civilian mountain rescue team in the UK, dealing with between 10 and 20 rescues a year.
However, in recent years this has become an "ever increasing number", with 136 rescues carried out in 2009 and 144 in 2010, it said.
'Enjoy your time'
The 3,000 rescues are made up of 1,500 over a period of 47 years between 1947 and 1994, with the remaining 1,500 rescues carried out in just 19 years.
The charity said it encourages everyone to "enjoy themselves" in the hills and mountains of the Lake District.
A spokesperson said: "Go prepared, take the right equipment and know how to use it.
"Plan your journey and let someone know where you're going and most importantly, enjoy your times in the hills."
The rescue team, which has annual running costs of £80,000 per year, is funded entirely by voluntary donations.