Olympic torch: Tim Sowton proud of local resilience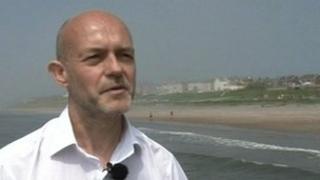 A doctor from Cumbria is to use his Olympic Torch run to pay tribute to the "resilience" of the people from the west of the county.
Seascale GP Tim Sowton, 51, was one of the first on the scene to offer medical aid to victims of Derrick Bird.
The taxi driver shot dead 12 people and left many others injured in west Cumbria on 2 June 2010.
Recalling the day, Dr Sowton described how he was called out of his surgery to attend to a wounded patient and support other people caught up in the horror.
"It was the one-year anniversary of the shootings when my wife [Eileen] saw the publicity about nominating people to be torchbearers," he said.
"She decided that it would be a positive thing to do, to put my name in as a nomination."
Dr Sowton said he knew nothing about the application until after the forms had been submitted.
"I feel that being nominated as a torchbearer is a celebration of the incredible resilience of the west Cumbrian community in being able to come through things like this and still hold our heads up high," he said.
News of a successful nomination in an email came as a "complete surprise" to Dr Sowton.
He said he would run "extremely slowly" with the torch for 300m in Cockermouth on 21 June, because he wants to enjoy every step.
"I just want to savour it and not let it slip away too quickly," he added.
Lining the route when he takes part will be his wife Eileen and children, David,25, Simon, 23, and Imogen, 20 and Dr Sowton's parents.
Dr Sowton has run the London Marathon six times.