Lake District tourism concern over police cuts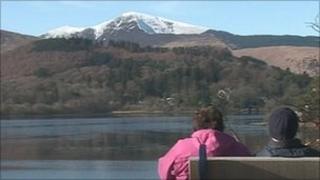 Business owners in the Lake District have expressed concern about the effect of police cuts on visitors.
At a public meeting in Windermere they questioned Chief Constable Stuart Hyde about plans to save £20.3m which could include closing station front desks.
He said cuts were unavoidable, but every effort would be made to give the public easy access to the force.
Tom Blaney, from the Lakes Hospitality Association, said that tourists might not know local procedures.
'Tourist-dependent area'
Mr Hyde said: "No area of policing is being left unturned, we're looking at absolutely everything and that does include the cost of running buildings and the cost of running front office services.
"What we're trying to do across the force is to provide an equitable and fair facility that matches people's needs.
"But at the same time we're ensuring we're much more available on the telephone and the internet so people can talk to us at times that suit them."
Mr Blaney said: "Visitors to this area don't understand the way community policing works.
"They expect to go to a police station.
"Bear in mind up to a third of them are overseas visitors and they're used to going to a town anywhere in Europe and seeing a police station and seeing a face they can talk to.
"We think it's a vital service that's maintained in a very tourist-dependent area like this."