Appleby Horse Fair river reopens in Cumbria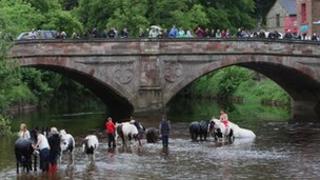 A stretch of river used for an annual gathering of Gypsies and travellers in Cumbria has reopened.
Organisers of the Appleby Horse Fair closed the main river horse-washing area on Saturday amid safety concerns following heavy rain.
The decision was reversed on Sunday morning after water levels "receded considerably overnight".
Owners traditionally wash their animals in the River Eden before riding them at speed in front of potential buyers.
Cumbria Police said 24 arrests had been made, mostly for low-level offences such as being drunk and disorderly.
The number has halved compared with the 48 arrests at the same time last year.
The annual fair, which opened on Thursday and ends on Sunday, has existed under the protection of a charter granted by King James II since 1685.
It is usually attended by about 50,000 Gypsies, travellers and spectators.