Stacey Mackie fire murder trial: Victim 'named killer'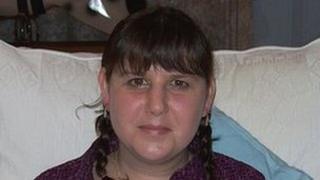 A "vulnerable" woman who suffered 90% burns after being set on fire in Cumbria told police who attacked her before she died, a court has heard.
Stacey Mackie, 35, was doused with white spirit and set alight in the attack at her flat in Kendal in January, the jury heard.
Carlisle Crown Court was told that before she died in hospital, she told police her attacker was Terrence Armer.
Mr Armer, 61, of Kendal, denies murder and arson with intent to endanger life.
The trial is expected to last for a week.
Jurors were told that police officers made repeated attempts to get into Ms Mackie's flat in Crag View after getting reports that a man was inside with an axe.
Found at window
They were forced to knock down the door, but the smoke inside was so thick and acrid that they turned back.
A few minutes later Ms Mackie walked out of the flat - a home for vulnerable adults - clearly badly burned, the jury heard.
Before she later died in hospital, she told police that Mr Armer, of Buttery Well Road, had attacked her, the court was told.
Mr Armer was found at the flat's window, struggling for breath. He and two policemen had to be treated for smoke inhalation.
The trial continues.