Appleby Horse Fair welfare complaints fall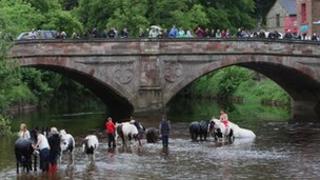 The RSPCA said it dealt with fewer incidents at this year's Appleby Horse Fair but issued more warnings.
Thousands of people were involved in the week-long annual Gypsy and traveller event.
The charity said between 7 and 13 June there were 192 incidents, a fall from last year, but warnings rose from 17 last year to 38.
It said it was pleased with the fall in complaints but concerned at the warnings rise.
The RSPCA had 32 staff at the event including specialist equine officers, and worked with four other animal welfare organisations.
It said most of its warnings were for overworking of horses and vet warnings.
Fourteen horses were taken into the care of one of the welfare organisations because of concerns and ongoing case investigations.
The fall in the number of incidents followed 2011's figure of 346 and 311 in 2010.
RSPCA national equine coordinator Cathy Hyde said: "It's really pleasing that we had to deal with fewer complaints than in previous years because that means that the greater majority of owners at the fair were treating their animals well.
"But, sadly, where we did need to intervene the situations were more serious, resulting in more warnings."
It said there were two incidents where dogs were removed from hot cars and the owners were cautioned.
The decision to close the River Eden to horses and people last Saturday because of high water levels was the right thing to do, it added.