Langdale fell death: Walker identified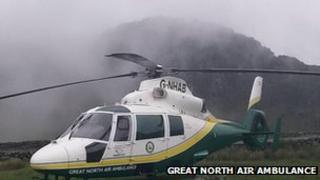 A walker who died on Friday in Great Langdale has been named.
Howard Gladwyn, 48, from Menston, Ilkely, West Yorkshire, fell 700ft - 800ft (213m - 243m) while walking near Ambleside.
He was with a group of friends near Dungeon Ghyll when the alarm was raised at about 12:30 BST.
Two helicopters and a mountain rescue team were called to the scene. There are no suspicious circumstances, Cumbria Police said.