Flooding disruption in Cumbria eases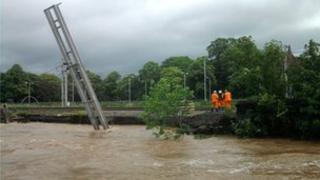 Flooding caused by heavy rain in much of Cumbria has reduced, the police and the Environment Agency have said.
The agency said a number of flood warnings and alerts had been lifted but there were some still in place for low lying land near rivers.
Its flood risk manager, Andy Brown, said flooding would still be causing "significant run-off" in places.
"There's still some chance of heavy showers around so, as always, we ask that people remain vigilant," he said.
On Saturday a number of roads in the county were closed and train services disrupted or cancelled.
The rail line next to Carlisle Station was flooded as the River Caldew burst its banks, as did the River Petteril.
On Sunday morning Virgin Trains, First Transpennine Express and ScotRail said all of its services north from Carlisle were now running.
Northern Rail services were still affected between Wigton and Dalston with replacement bus services in operation.
Carlisle's Conservative MP, John Stevenson, said: "It's terrific that the flood barriers, on the whole, have held very well.
"I'm assuming the Environment Agency will make their own assessment of what has happened to make sure that they've learnt any lessons for the future.
"It is encouraging that we do have good quality flood defences in and around Carlisle. I just hope we get a better summer."