Alfred Wainwright notebook sold at auction in Carlisle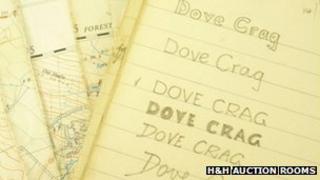 A notebook that belonged to the fell walker and author Alfred Wainwright has sold at auction for £8,600.
It has been bought by the Wainwright Society in partnership with a number of private sponsors.
The society wants to keep it at the official Wainwright Archive at the Cumbria Archive centre in Kendal.
It is believed the book contains the first notes made by Wainwright, when he was creating his Pictorial Guides to the Lakeland Fells.
The fells described in the notebook include Dove Crag, which was the first fell that Wainwright penned for Book 1, The Eastern Fells, in 1952.
Wainwright, who lived from 1907 until 1991, compiled his famous Pictorial Guides to the Lakeland Fells between 1952 and 1966.