Oil paintings from 28 collections in Cumbria go online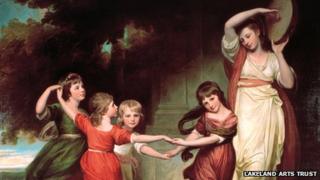 Oil paintings from public collections in Cumbria have been photographed and made available online.
The paintings are drawn from 28 collections involved in Your Paintings - a project which aims to show the entire UK national collection of oil paintings online.
There are an estimated 200,000 oil paintings in the national collection.
It is thought that this is the first time the 1,900 paintings from Cumbria have been made available in this way.
The project to catalogue and photograph thousands of paintings is being organised by the Public Catalogue Foundation (PCF).
The charity was launched in 2003.
At any one time the PCF estimates that about 80% of the paintings in the national collection are not on public display.
Organisers hope to create a public index of the paintings and information about them.
'Great opportunity'
Paintings from Cumbria include those by George Romney, Dante Gabriel Rossetti, Joshua Reynolds, Kurt Schwitters and Keith Tyson.
It includes paintings from smaller collections such as those at Keswick Museum and Art Gallery, Kendal Town Council and the University of Cumbria.
Charlotte Stead, curator at Keswick Museum and Art Gallery, said: "What a great opportunity for every painting across Cumbria and the UK to be in one place, promoting access to collections in so many organisations."
Identify the paintings
Included in the online collection are paintings from sources not usually thought of as having a public art collection.
Schools, councils and Kendal Magistrates' Court have all contributed to the project.
The public are now being invited to help identify and catalogue what can be seen in each painting.
Your Paintings is a joint initiative between the BBC, the Public Catalogue Foundation, and participating collections and museums from across the UK.