Centrica submits plans for Barrow biomass plant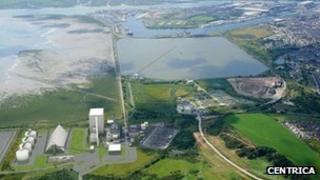 Energy firm Centrica is pressing ahead with plans for a biomass power station in Cumbria, despite a 13,000-name petition against the move.
The company wants to demolish its existing Roosecote plant, near Barrow, and build a larger biomass facility.
The proposal has been opposed by campaigners concerned about emissions from the wood-burning plant.
Centrica has now submitted an application to the national Planning Inspectorate for England and Wales.
The station would produce up to 80MW of electricity, which Centrica claims would be enough to power about 125,000 homes.
It would be fuelled by waste and harvested wood from the UK and abroad.
The inspectorate, the government agency responsible for examining applications for major infrastructure projects, is expected to announce a decision on whether the plans can go ahead on 31 July.