Kendal Torchlight Carnival procession cancelled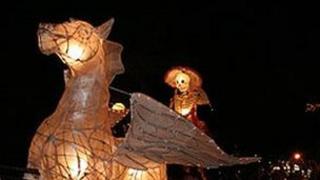 A torchlight parade in Cumbria has been cancelled because of a shortage of volunteers and funding.
Kendal Torchlight Carnival organisers were unable to sign up the 120 marshals needed and secure enough funding, on top of council funding, for the event.
Its committee said it was not in a position to stage the event safely and within legislation.
The carnival, due to take place on 14 September, has been running for 42 years.
A minimum of 120 marshals are required to enable the parade to take place.
Organisers hope to hold the event next year and are appealing for volunteers and businesses to get involved.
'Big blow'
Mayor of Kendal, Councillor John Willshaw, said funding from Kendal Town Council and South Lakeland District Council was in place for the event.
He said: "I'm very sad, it is a big blow. It was quite a surprise for me.
"I think the problem here is the amount of work that is needed to do an event like this.
"We will be working as far as we can to get it reinstated in 2013."
Money donated by spectators lining the route is collected by local charities.