Lake District jobs boost from Reays Penrith coach depot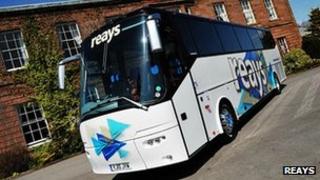 A Cumbrian coach and bus company is creating 20 jobs after it was awarded contracts for two routes.
Reays, which has depots in Carlisle, Egremont and at its HQ at Wigton, is opening a new one in Penrith.
It is due to take over the 106 Penrith to Kendal service, and the 105 Penrith-Greystoke-Penrith shuttle from Stagecoach in September.
The family-run firm already operates Carlisle's City Hopper network and the Sellafield staff park and ride.
Managing director Chris Reay said: "The latest expansion means we'll be running about 20 vehicles from the new Penrith depot, including new schools contracts we've also won.
"There will be 20 more jobs for full and part-time PCV drivers and additional staff, taking our total workforce past 150 for the first time in our 30-year history."