Blackmail attempt on BNP leader Nick Griffin: Man jailed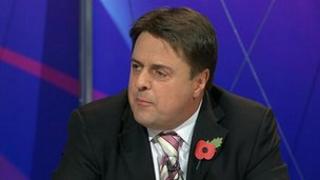 A businessman who attempted to blackmail BNP leader Nick Griffin and targeted his family has been jailed.
David Sloan, 33, threatened the politician's parents and daughter in an attempt to recover a debt of £44,000.
His now-defunct firm, Romac Press, had produced election leaflets for the BNP, but Mr Griffin refused to pay, saying there were too many errors.
The judge at Carlisle Crown Court sentenced Sloan, of Newtonards, County Down, to two-and-a-half years in jail.
He had denied the charges, but was convicted of two counts of blackmail.
'Loathing and contempt'
Sentencing, Judge Peter Hughes, said Sloan was a man of previous good character, and under stress, but he had set about trying to enforce the debt using improper means.
He said: "Blackmail is a despicable offence, it is rightly regarded with loathing and contempt.
"You went to considerable lengths, travelling to England to target Mr Griffin's daughter.
"You tailgated her in your car from the BNP office in Wigton to Carlisle, it must have been terrifying.
"Your purpose was to scare.
"This has nothing to do with politics, or Mr Griffin's views, it is about the use of blackmail."